This component is available in 37 other languages​​!
TidyDeploy – Automates Web-Developers' Deployment Processes
ClientEngage TidyDeploy is a Windows based application which automates the steps you usually need to follow every time you release a new web-application. TidyDeploy will follow your instructions: for example, it will delete cache files, delete files only needed for development and it will remind you what changes you need to apply to which particular files. In short: with TidyDeploy you can "set it and forget it" – gone are the times of having to "clean" your applications manually.
Check-out the demonstration video for a quick overview of how it works.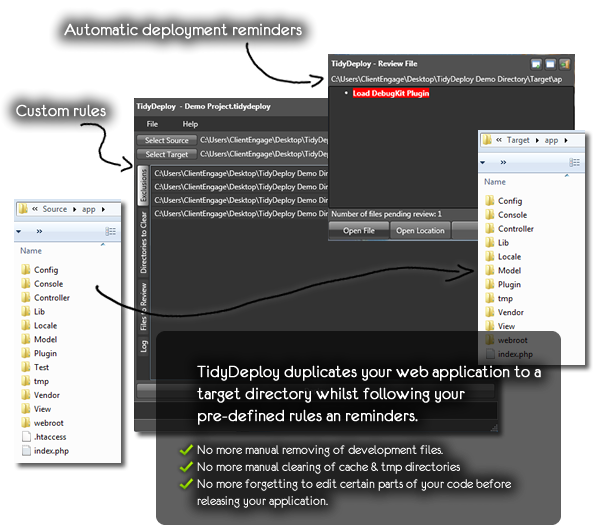 Features
Create exclusion rules to remove certain files/directories from your application's deployment version
Create rules to clear certain directories (caches, tmp, sample files, etc.) when deploying your web-application
Be reminded to perform changes on pre-defined files (e.g. removing development code, etc.)
System Requirements: Windows XP (SP3), Windows Vista, Windows 7, Windows 8 and.Net Framework 4 Client Profile
What's included? The download includes a Setup executable which installs TidyDeploy on your Windows user account (the source is not included).
Do you closely work with your clients?
If you are looking for an advanced project management script to manage your client-interactions, then come right this way to have a look at the ClientEngage Project Platform – an advanced PHP project management script.
ClientEngage Project Platform – PHP Project Management
This particular project management script cuts-down on all the bloat that tends to make project management a nuisance. Instead, the ClientEngage Project Platform focuses on the tools you need to really get close to your customers in those crucial stages of your relationship. This will delight your clients – not only with your end-product but the whole lifecycle of getting there. So, if you are looking for project management in PHP, then the ClientEngage Project Platform is for you.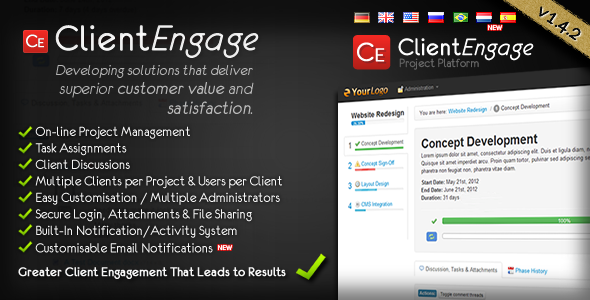 ClientEngage VisitorChat – a PHP-based Chat With Windows Client
If you are looking for an advanced PHP live chat script to supercharge your client-interactions, then come right this way to have a look at the ClientEngage VisitorChat- an advanced PHP support chat script.
The ClientEngage Visitor Chat is a fully-featured real-time chat for your websites. A clear and simple web-based administration allows you to conveniently chat with your visitors. And best of all: Visitor Chat comes with a Windows-based client out-of-the-box. Without having to visit the Visitor Chat's admin-interface you will be notified from your Windows tray and can start chatting straight away!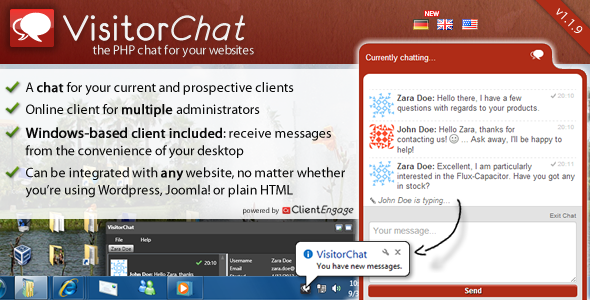 ---
Properties
Created:
4 January 13
Last Update:
N/A
Compatible OS Versions:
Windows XP, Windows Vista, Windows 7, Windows 8 Desktop
Application Runtime:
.NET 4
Keywords
eCommerce, All Items, app, application, ClientEngage, deployment, developer, development, php, projects, TidyDeploy, tool, web development, windows