This component is available in 37 other languages​​!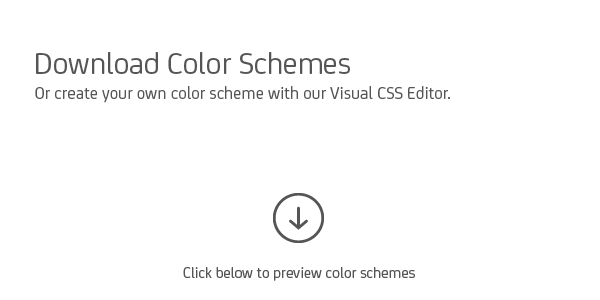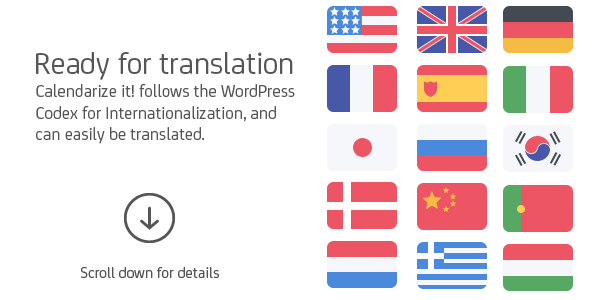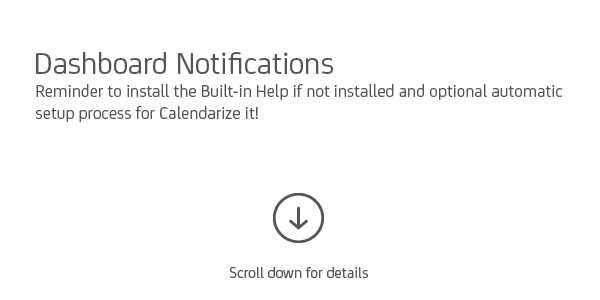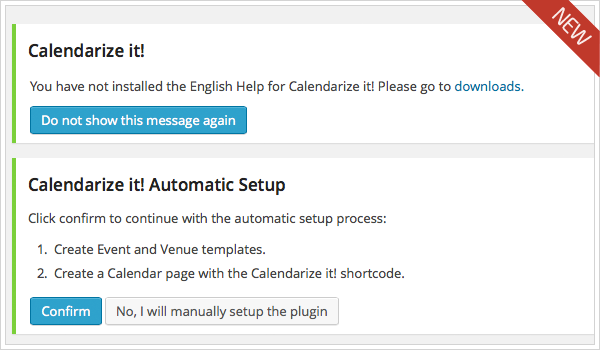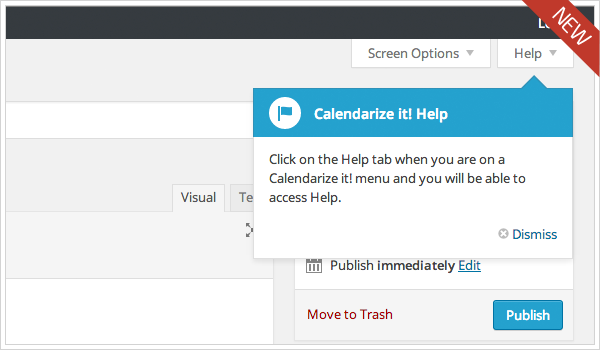 Downloadable Content and Add-ons for Calendarize it!
With Calendarize it! version 2.0 we introduce Downloadable Content. When you enter your License Key in the Options Panel you will be able to access Downloads. You can download free add-ons like our new Visual CSS Editor and the Contexual Help for Calendarize it! as well as buy premium add-ons.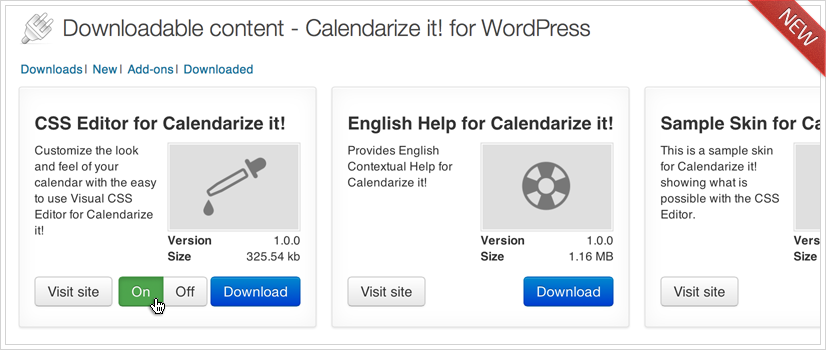 Event and Venue Layout Box Builder
With Calendarize it! 2.0 we introduce the Layout Builder for the Event and Venue Box. It makes it super easy to customize the layout and add custom fields as well as setup default templates.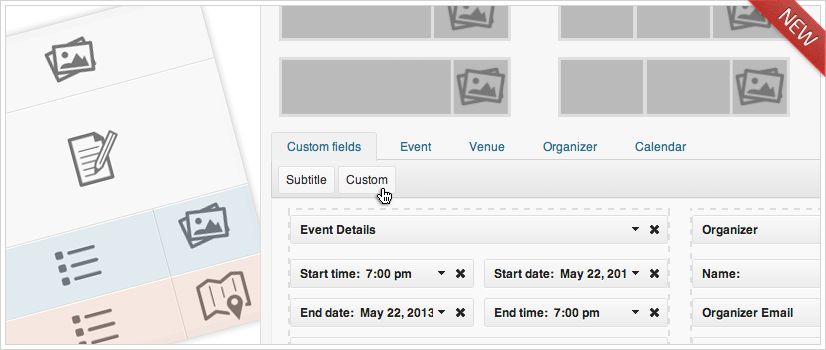 Update the plugin directly from within WordPress admin
You can now update Calendarize it! for WordPress directly from within WordPress admin. All you need to do is enter your Item Purchase Code (License Key) in the Options Panel.

Easy Point and Click interface to add new events
It is easy to add new events with the "point and click" visual calendar interface in wp-admin. Click on the day, enter the start day/time and end day/time.

Preview when entering event in wp-admin (single event)
You will get a preview of the event in the calendar in the wp-admin.

Support for Recurring Events
Easily add recurring events: every day, every week, every 2 weeks, every month, every year, and if you select More Options you can choose to repeat events multiple times the same day, hour. You can also choose between settings like 1st, 2nd, 3rd, 4th, 5th or last.

Support for Arbitrary Recurring Events and Recurring Events with Exceptions
With the release of Calendarize it! for WordPress version 1.2 it is now possible to create Arbitrary Recurring Events easily. First you create your recurring event and then you can repeat it when ever you want, including changing the time of the day when it repeats. You can also create Recurring Events and then easily remove specific dates (exceptions).
Show Individual Calendars per user in WordPress
You can easily display calendars for individual users in WordPress simply by adding a Shortcode with the username. You can also display events from multiple users by adding the id number of the user instead of the username.
Advanced Filtering (Custom Taxonomies)
Calendarize it! for WordPress supports Custom Taxonomies and by using these you can apply advanced filtering when viewing the Calendar in the front end. By default all events will be showing unless you have inserted a Shortcode with filtering. Click on a Custom Taxonomy and click "Apply filters". You can add the filters in any combination. And click "Show All" in order to remove all filters.
Sidebar Widget for Mini Events Calendar
Insert a Mini Events Calendar widget in your sidebar. Apply advanced filtering with Custom Taxonomies. Choose between different jQuery UI skins.

Sidebar Widget for Upcoming Events
Insert a Upcoming Events widget in your sidebar. Apply advanced filtering with Custom Taxonomies.

Event List per day, per week, monthly
Switch directly from either Monthly, Weekly or Daily view to "event" and view all events from the Month, the Week or the Day.
Support for Custom Fields for Events
When creating your event you can easily add Custom Fields. Choose between three different types of Custom Fields: Custom, Taxonomy or Metadata.

Create and Manage Venues, Organizers and Calendars (Custom Taxonomies)
Assign events to specific Calendars, Organizers and Venues. Create detailed Venue page.

Support for Shortcodes
We have created 8 different Shortcodes that you can use with Calendarize it! From a very Shortcode to insert the calendar to more advanced Shortcodes that allow you to apply different filters.

Support for Custom Post Types
You can activate Calendarize it! for Custom Post Types including Posts and Pages. This means you can make these show as "events" in the calendar.

Support for Custom Capabilities
With Custom Capabilities you can customize who has access to the different features. Please notice that you need a Role and Capability Manager in order to use the Custom Capabilities. You can either use our White Label Branding for WordPress, which has a build in Role and Capability Manager, or try one of the free plugins available on the internet.
Customize Time and Date format
We have implemented comprehensive support for customizing the Time and Date format. You can completely customize the Time and Date format for the following views: month, week, day and event list. This also includes setting 12 hour or 24 hour time format.

Support for Events by User Role
If you have our Pages by User Role for WordPress plugin you will able to set the access to each event by User Role. You can either provide access or block specific user roles. This makes it possible to show one calendar, but depending on the visitors user role they will see different events in the calendar.

Detailed Event Page
Each event has a detailed Event Page where you can add information.

Detailed Venue Page
Each event has a detailed Venue Page where you can add information about the venue. Below the venue information we will display any upcoming events from the venue.

Google Map integration for Events and Venues
Both the Event Page and Venue Page supports Google Maps.

Support for internationalization
Calendarize it! for WordPress comply with the Codex for internationalization. This is a process of making an application ready for translation. In WordPress this means making strings which should be translated in a special way.
If you have our Easy Translation Manager for WordPress you can easily translate Calendarize it! for WordPress.
The following language versions are included with the plugin:
English
French
Spanish
Italian
Changelog
Version 4.0.3.65917 – December 15, 2015
Bug Fixed: Server Side Static Events are not taking into consideration the event removal by Event End attribute.
Bug Fixed: Remove PHP warning from log on WordPress 4.4. Related to old Taxonomy Meta Data prior to WordPress 4.4.
Bug Fixed: Event Title started to show HTML code in all default views
Version 4.0.2.65876 – December 10, 2015
Bug Fixed: Encoded characters are showing in calendar views
Bug Fixed: PHP warning in Taxonomy related to is_custom_taxonomy flag
Bug Fixed: Clear internal Calendarize it! cache on update, so that fixes that affect cached elements gets applied.
Compatibility Fix: Added a renounce procedure to copy Term Meta Data to the built in WordPress Term Meta Data released with WordPress 4.4.
New Feature: Added troubleshooting feature to allow turning OFF all add-ons at once (this is useful if a add-on is causing an error, which results in the user not being able to apply a fix by updating add-ons. By turning off all add-ons the user can go to Downloads and apply any pending updates, and then turn ON the add-ons again).
New Feature: Added SVG icons for the new Event and Taxonomy Counter Widget add-on.
Version 4.0.1.65768 – December 4, 2015
Bug Fixed: The Automatic Calendar content option should be ON by default for the native event custom post type
Bug Fixed: Hyphen and apostrophe is showing as code in events titles
Bug Fixed: When Custom Tooltip Details is selected, and the tooltip settings have no fields, it should not display the default Start and End Date. Instead it should not output the content unless the user adds fields.
Update: Singular label for events custom post type updated.
Version 4.0.0.65729 – December 2, 2015
New Feature: Added support for the popular Visual Composer plugin. If your theme supports Visual Composer and you have the plugin installed in your website, you can now build your Event Details Box, Venue Details Box and Organizer Details Box layouts with Visual Composer. Choose from 8 bundled layouts or build your own custom layouts choosing from 34 different elements (Visual Composer is NOT bundled with Calendarize it!)
New Feature: Added support for 16 additional OAuth websites in Social Connection module
New Feature: Added filter rhc_feature_access_capabilities to allow add-ons to add more capabilities to the Feature Access option tab
Bug Fixed: Google Maps warning about sensor attribute being depreciated
Bug Fixed: When upcoming only is used, and grid_norepeat, and daily recurring event, the recurring event is not displaying in the Events Grid View
Bug Fixed: Temporarily disable the GEO field from ics. Google is no longer ignoring the field, instead it fails to load
Bug Fixed: When mixing an Month View or Week View calendar with Event Grid View in the same page, the event titles gets overwritten in the Month View or Week View when the Event Grid View loads more data
Bug Fixed: Disabling the automatic elements for event post type is not working
Bug Fixed: Events Grid View started showing strange data and time format (Events Grid View add-on)
Compatibility Fix: When using the Metro Pro theme, the canonical URL is wrong and Facebook shares get incorrect page data (debug screen added info about the theme)
Version 3.5.8.64519 – October 31, 2015
Bug Fixed: Catch a Javascript error where an invalid recurring UNTIL date format will crash the calendar completely
New Feature: Added feature for selecting different Google Map styles in Options > Template Settings (Requires the free Map Styles for Calendarize it! add-on).
Version 3.5.7.64488 – October 29, 2015
Bug Fixed: When Events does not have time postmeta detail box field is defaulting to some random field
Bug Fixed: Crash in debug module
Version 3.5.6.64349 – October 27, 2015
New Feature: Added the event_click attribute. It takes the following values "fc_click" or "fc_click_no_action"
Update: Added the event_click option to the Calendarize Shortcode tab in the Options menu
Version 3.5.5.64307 – October 26, 2015
New Feature: Added the fixed_title attribute and options or replacing event title (and hiding the time) in Month View.
Bug Fixed: PHP warning in the recurring events dialog, when the first day option is not set
Update: Added icons/fonts for additional Social Networks in the Social Connection module
Version 3.5.4.64186 – October 21, 2015
New Feature: Added support for new attribute render_events. To be used in combination with the Match Background option (month_event_image="0" matchbackground="1" render_events="0"). This will allow you to create a calendar showing vacant/occupied days.
Version 3.5.3.64178 – October 20, 2015
Bug Fixed: Remove minimum height for tooltip.
Bug Fixed: Javascript error when saving some of the recur rules.
Compatibility Fix: Single Event Page is showing the Event Template title instead of the actual event title (Moose – Creative Multi-Purpose Theme from WorldWideScripts.net.net, Item no. 12059290)
Compatibility Fix: Added support for using Event Top Image from Calendarize it! as background image with event title on single Event Details Page (Moose – Creative Multi-Purpose Theme from WorldWideScripts.net.net, Item no. 12059290)
Compatibility Fix: Taxonomy Page is showing the Taxonomy Template title instead of the actual Taxonomy term name (Moose – Creative Multi-Purpose Theme from WorldWideScripts.net.net, Item no. 12059290)
---
Properties
Created:
25 June 12
Last Update:
17 December 15
High Resolution:
Yes
Compatible Browsers:
IE10, IE11, Firefox, Safari, Opera, Chrome
Compatible With:
Visual Composer 4.8.x
Files Included:
JavaScript JS, HTML, CSS, PHP
Software Version:
WordPress 4.4, WordPress 4.3.1, WordPress 4.3, WordPress 4.2, WordPress 4.1, WordPress 4.0, WordPress 3.9, WordPress 3.8, WordPress 3.7, WordPress 3.6
Keywords
eCommerce, eCommerce, All Items, arbitrary events, calendar, events calendar, google map, paid events, Ratings and Reviews, recurring events, responsive layouts, rsvp, Submit events public, wordpress calendar plugin